Is it Time to Redesign Your Logo?
This is a question that we get asked frequently by owners of business-to-business (B2B) companies. They want to attract bigger and better clients and wonder whether updating the look and feel of their brand is necessary. But they struggle to make this decision. Typically, their business has created a dozen or more variations of their logo over the years to make it work for various purposes, such as trade show signage, sales collateral, websites and social media. Finally, they reach a point where they want a more flexible solution.
Sound familiar? The question is, should you invest in a completely new logo or simply "refresh" your existing one? Here are 5 questions to help you decide.
1) Does it make a good first impression?
Getting it right is a crucial first step in kick-starting your business growth. Your logo is the visual identifier for your company vs. your brand, which is the emotional connection that people feel when they interact with your company's employees, products or services. It's an important distinction. A new logo can help elevate your brand by taking it along for the ride.
2) Is the issue with your logo or your brand?
You have a brand – with or without a logo. Make sure you know whether your issue lies with your logo or your brand. A new logo isn't a quick fix for an ailing brand. Be sure that your brand connects on a deeper level with your target customers. Research has shown that customers who are emotionally connected with a brand are 25% to 100% more valuable in terms of revenue and profitability than those who are simply OK with it.
3) Is it scalable?
If you find your designers fabricating twenty different versions of your logo depending on the media or digital platform, then you've got a problem. If your logo predates mobile devices, then it wasn't intended to be responsive across various screen sizes. Today, designers work with vector images so they can be scaled up or down to look good in any size and digital medium.
4) Is it memorable?
Next, let's understand how your logo is perceived by your key stakeholders, whether they are suppliers, investors, or perhaps the end user of your product or service. Do they remember it and can they recognize it? What do they like about it? This information and more can be learned through surveys or telephone interviews, depending on your target audience. Once you understand the positive, neutral or negative associations with your logo, you're well on your way to identifying what changes you need to make and how to tackle them.
The role of your marketing agency is to take you out on the edge of what's possible."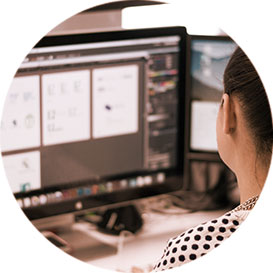 5) Is time for a tune up or a do-over?
However you create a logo, a successful business will reach a mature stage when more prominent clients, partners and vendors come on board. To attract and retain these lucrative accounts, B2B company owners want to up their game and come to us looking for a "brand refresh." When the name and logo are well established, a new logo could create confusion among customers. In this case, a logo tune up may suffice.
Updating the visual design – wordmark, icon, typography, colour palette – is just one part of your brand identity. To keep your brand emotionally connected to your customers, the messaging, content and story need to be addressed. Conducting a brand audit will help improve your current competitive positioning and identify opportunities for improvement.
If the original logo is unappealing to new customers and reflects poorly on your brand, then the only option is to completely start over.
Create or Iterate? The choice is yours
Whatever you decide, your ability to build a strong brand identity relies on a timeless logo design. Your agency's role is to take you out on the edge of what's possible.