Top 10 Terms Marketers Should Choose to Use and Lose in 2018
The year 2017 ushered in some exciting new marketing terminology. We also read and heard some words that have become a bit tiresome through overuse. To help us all feel smarter in 2018, we polled our circus troupe and came up with our recommended Top Ten List of terms to use and lose in the New Year.
Terms We Should Use:
1. CASL
All commercial electronic messages (CEMs), such as email marketing newsletters sent within Canada, must comply with Canadian Anti Spam Legislation (CASL), which came into effect in 2014. The new requirements impact operations across all businesses, whether small, medium or large. If you're not familiar with the challenges regarding express consent, withdrawals of consent and the content requirements of messages, then make 2018 the year to embrace CASL and avoid getting your email blacklisted or worse.
2. Material Design
Material Design is Google's set of guidelines for building consistent and responsive user interfaces. Most of their web products use this system, and it provides a familiar experience across multiple platforms. Since the Material Design guidelines are open source, they're quite popular among companies and developers who are adopting them when building applications.
3. ChatBots
Conversations with various forms of artificial intelligence (AI) are becoming commonplace with messaging apps continuing to grow faster than leading social media sites. Did you know that the tools exist to build ChatBots into your website or mobile app with relative ease? The best ones provide users with value by serving a purpose or solving a problem, such as CIBC's RemiBot. Using Facebook Messenger, it checks foreign exchange rates and sends alerts, and gives answers to product questions. Machine learning and more sophisticated AI ensure that ChatBots be even bigger in 2018.
4. Responsive Design
Responsive websites are often equated with being "mobile-optimized", or with having a "mobile version" of your website. Having a truly responsive site is much more than a having a secondary version. Responsive sites have planned adaptations at multiple breakpoints that allow your website to accommodate a variety of common screen sizes and resolutions. Remember that responsive design is not just limited to layout, but applies to functionality as well.
5. Iterate
It's time to acknowledge that no website will ever be "done." Websites are living breathing things, and Content Management Systems (CMS), make it easy to edit, tweak and make a new landing page or edit what's there – on the fly. No need to wait – just iterate!
The New Year will be full of innovation, invention, and adaptation."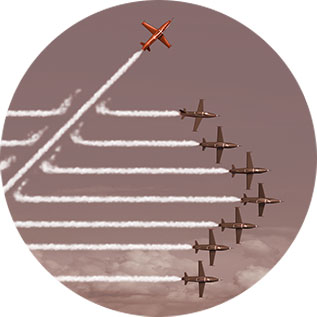 Terms We Should Lose:
6. Top of the Funnel
As marketers, we find it helpful to visually depict stages of the customer journey using either a funnel or the McKinsey loop. Today, it's now possible for leads to come into and out of the funnel at any stage. Next time you catch yourself saying, "the top of the funnel," (or any other part of it), try to focus on the intention of 'lead generation," or consumer action of "awareness " and so on.
7. "Click Here"
This call to action (CTA) is redundant, adds clutter to your link or button, and is frowned upon by most search engine ranking algorithms. A CTA isn't the click itself, it's the why – the motivation behind the action. Instead, try linking from the descriptive words in your copy, to help the reader, and the SEO robots, determine the relevancy of the link. For example: Learn how circus helps its clients outperform.
8. Think Outside the Box
After 50+ years, and way too many utterances, it's time to put a new spin on this classic phrase by asking how your team can think differently, such as "work backwards," "turn the problem upside down," or "reach beyond the obvious."
9. Low Hanging Fruit
Often used by marketers to denote the most obvious opportunities, this 1990s buzzword is well passed its heyday. Look for a new way to describe obvious opportunities by saying, "capture things within reach," or possibilities that yield favourable "short term wins" or "quick wins."
10. Viral
Google "viral marketing" and you'll find a whole slew of articles from 2011-2012. The lack of recent content on this once "hot topic" should signal that it's time to let this term go. Instead, focus on creating "high impact content" that resonates with an audience, is relevant to them, and is "shareworthy."
The New Year will be full of innovation, invention, and adaptation. Let's usher out the old and try out some new marketing terms. We'd love to know which ones you're most excited to use in 2018, and which ones you'd like to retire. Please send us a message.