fluidconcepts is an innovative designer and manufacturer of flexible office workstations and furnishings. Despite being on the leading edge of design trends for office workspaces, the company lagged in terms of its marketing and was at risk of being outpaced by competitors. fluidconcepts asked circus to find a solution that would appeal to its target: designers, architects, sales reps and dealers.
Breaking through the
clutter and confusion
During qualitative research with internal and external stakeholders, circus identified a high degree of clutter and confusion about the brand and its positioning. circus focused on fixing the visual and messaging elements of the brand identity: colour, logo, tagline and copy points.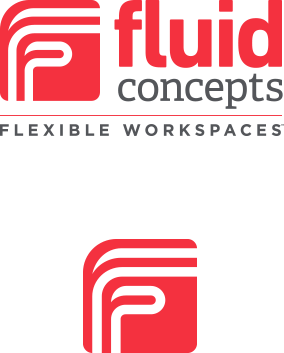 New branding elements
make it memorable
A new logo with a stylized "F" knocked out of a square would become the new visual asset of the brand, giving the customer a single, simple, and memorable symbol for fluidconcepts. It can be used as a graphic element in backgrounds or be cropped for additional visual impact. Paired with a modern red, the new colour conveys warmth and energy.
A critical part of the brand strategy was the new tagline, "FLEXIBLE WORKSPACES," which differentiates the company's products as flexible in terms of their design, materials, and finishes – extremely important for the end user.
Achieving simple and consist brand execution
To execute the brand across all marketing collateral, circus developed brand standards and guidelines. Sales and marketing collateral were designed, including a stationery package, trade show signage and a new 24-page product overview book. Intended to inspire designers and dealers, this new corporate sales tool showcases the most popular and trending product lines and clearly describes the features and benefits. A digital format is also available for easy downloading 24/7 from the website.
With a revamped brand, fluidconcepts is well-positioned to attract better quality sales rep groups as it continues to grow in Canada and increases its penetration into the U.S. market.
Let's talk
Want to start a project or just say hi? We'd love to talk with you, so why not drop us a note.
Contact Us