AWARD WINNER
Horizon Silver Award 2020
insight
B2B companies can capitalize on the spirit of holiday shopping and the holidays are a perfect time to maintain a strong brand presence and create an emotional connection with customers, prospects and vendors.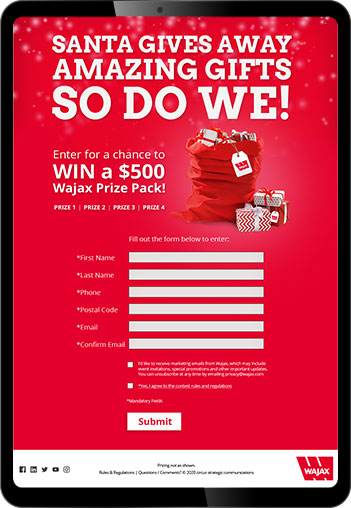 what we did
Using a touch of humour, clever headlines and bold designs with animation, circus created a thematic campaign to build brand awareness, foster audience engagement, increase social media followers and drive web visits.
Using key corporate messaging with a twist, we demonstrated that Wajax Outdelivers Santa!
campaign elements
ONLINE CONTEST
WEBSITE CONTENT
FACEBOOK & INSTAGRAM ANIMATED POSTS
INTERNAL COMMUNICATIONS
Let's talk
Want to start a project or just say hi? We'd love to talk with you, so why not drop us a note.
Contact Us