Diving Into Web Design & Development.
When Making Waves Swim School realized that their online web presence was just helping them tread water, they called circus to design and develop a new website that really makes a splash!
Getting Our Feet Wet – Literally.
With multiple locations, a third party online registration system, and a need for clients to be able to see class schedules and plan for multiple children to take lessons, MWSS had a number of unique challenges to overcome. In addition, their website needed to have a compelling design that communicated expertise and safety without losing the important factor of fun. To accomplish this, we not only illustrated a new goldfish mascot, but also jumped in and did a full day onsite photoshoot to really communicate the benefits of the MWSS facilities and the people who work there.
Testing The Waters.
The new CMS-based, mobile optimized Making Waves Swim School website offers engaging and real imagery layered into a scrolling homepage with expandable top-menu web design that makes navigation simple and clear. Sub-pages support the simple navigation with more detailed information such as class descriptions and staff bios, while news, events and important information is housed on pinned and clickable card-style highlight boxes for easy access. A "Register Here" button on every page makes the online third-party registration process simple and seamless so that visitors never feel they've left the MWSS site.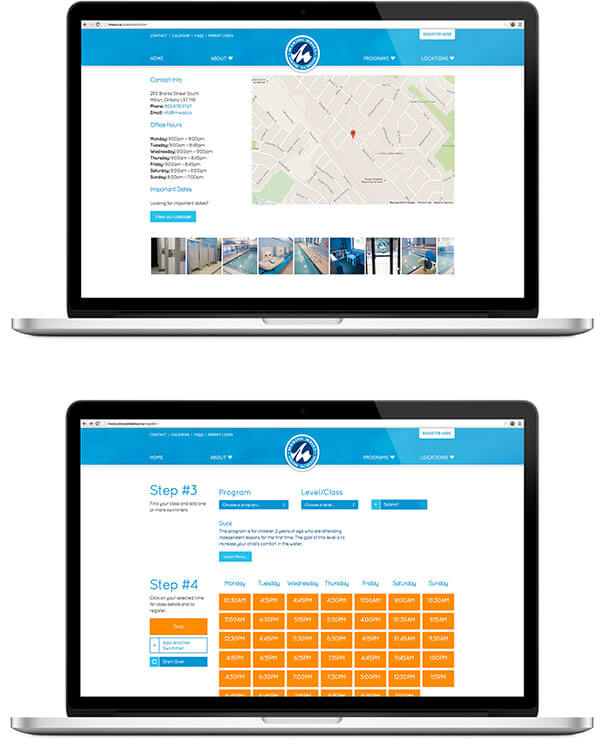 It's all going swimmingly.
The new Making Waves Website has proven to be an effective and engaging business-building tool as well as an important improvement on their ability to communicate effectively with their current clients – which keeps treading water in the pool, where it belongs.
Let's talk
Want to start a project or just say hi? We'd love to talk with you, so why not drop us a note.
Contact Us