80 years young
The Oakville & Milton Humane Society wanted to increase donation funds and community engagement through a well-informed and sophisticated Annual Report. Eight decades of protecting and caring for the community's most vulnerable animals and wildlife provided the opportunity to tell a special anniversary story.
To mark the Society's 80th year, circus designed the annual report to reflect all it had achieved, all it was doing, and all it still could do.
Past, present and future
By dividing the report into three sections, powerful stories of triumph, tragedy, humour and happy endings were told. Cute and clever imagery highlighted incredible challenges and achievements. Colourful infographics illustrated the Society's impact to the community, its gratitude to volunteers, sponsors and partners, and its need for continued funding in the future.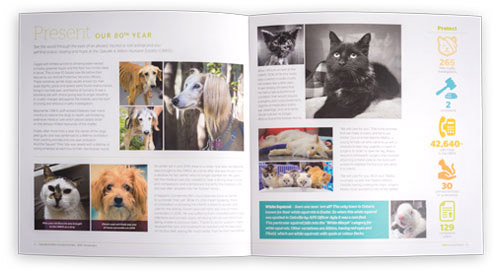 Protect, care and educate
The report served as a marketing tool to start discussions with new donors and educate the community about the Society's mission and its important role as the voice to the animals who are neglected in the community.
Global recognition
circus was privileged to help celebrate the Oakville and Milton Humane Society's milestone achievement and was awarded a MarCom Gold in the category of "Print media, non-profit" for the design of the 2017 annual report.
Let's talk
Want to start a project or just say hi? We'd love to talk with you, so why not drop us a note.
Contact Us