The Oakville Community Foundation offers a means of making a difference and leaving a legacy by making a donation, establishing an endowment and leaving a lasting gift that will be recognized and remembered.
Oakville has a reputation for being affluent, well educated, cultured. This is true for a large segment of the residents making it difficult for organizations that deal with poverty, addiction, mental health and other needs to address these very real needs in this community. The Oakville Community Foundation needed a stronger and more relevant way of communicating their key messages to this affluent segment.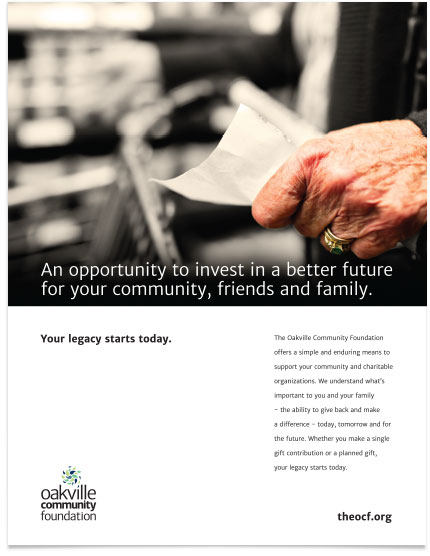 Making it real
The circus solution was to develop a campaign that exposed the reality of the situation. This was accomplished through a campaign that would expose the real needs in a way that was both relevant and believable to this highly educated market.
Reality can be harsh
circus developed a hard-hitting campaign. Visuals are gritty causing discomfort and tension in order to gain attention. Highlighted areas within the image draw attention to the area of need. This need is verified by supporting the image with recent statics. A call-to-action provides this audience with the opportunity to make a difference by.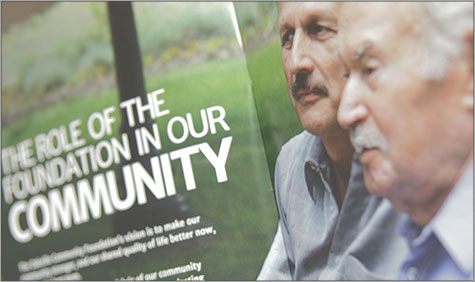 Making a difference
A second campaign featuring full colour, positive, real community imagery for all internal facing communication to reflect the positive impact individuals including donors, board members and volunteers as well as charities were making in the community. The juxtaposition of the two campaigns communicates a positive story of change.
If they know they will help
Oakville is a very generous community willing to help when a need is expressed. A wide range of communication materials and avenues were implemented to get the message out to the market and varied stakeholder groups including a new website, print ads, admail, brochures, marketing video, closed circuit digital screens in hospitals, Cineplex screens, social media outreach and targeted digital media placements. The response has been as expected: generous.
Let's talk
Want to start a project or just say hi? We'd love to talk with you, so why not drop us a note.
Contact Us